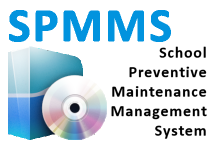 SPMMS is a complete facilities, grounds, equipment and vehicle maintenance management and job control system designed especially for school and college use. It is a tool, conceived and designed to enhance accountability and productivity of buildings, grounds, equipment, and vehicle maintenance operations. It enables the maintenance manager to make the most of his/her resources while encouraging the practice of sound fundamental maintenance management techniques, including: documentation, planning, scheduling, communication, follow-up and analysis. The program originated in 1983, and we've been making improvements to it every year since then. The latest release is fully Windows compatible and offers many new features and capabilities. It is "user friendly" so persons with only minimal computer experience or training can operate the system. We guarantee you'll be up and running in two days. No pre-loading of data is required.
SPMMS is used by the maintenance manager to: (1) document, plan, schedule and monitor maintenance work, (2) to organize the flow of information, (3) provide management reports relating to backlogs, progress, problems, work status, material and labor costs, employee and accounting data.
SPMMS performs routine, emergency, and preventive maintenance work documentation, scheduling, reporting and accounting. Information flow processes keep receivers of service, as well as managers and providers of service, informed on all aspects of the work process. Work requests may be submitted via the SPMMS Work Request Form (either paper or electronic version). This form serves as a request, planning, approval and communication document. When the planning and approval are accomplished, relevant information is entered into the SPMMS Work Order. The Work Order becomes part of a data base which includes all maintenance work. A "hard copy" of the work order is printed and forwarded to the appropriate craft supervisor or planning technician for dispatching. All SPMMS forms are designed to support high operator productivity. Comprehensive help messages and instructions are available on the screen at all times.
Scheduled Preventive Maintenance (PM) Work Orders are automatically printed as the work becomes due. SPMMS tracks Date Due and "reminds" of equipment due (or overdue) for service and automatically reschedules after completion. Complete service and repair histories for equipment maintenance and repair costs aid in repair/replace decision making.
Current job status, progress, cost and other information is always available on-screen, and in printed form. Summary and detailed management reports such as backlog, progress, completed, and accounting are available. Information is presented in a manner to highlight progress and problem areas. Work schedules, vandalism, inventory reorder and numerous special reports are easily produced.
Reporting information on key performance criteria and indicators establishes accountability by work unit and permits accurate and reliable prediction of the impact on service levels and backlogs caused by adjustments in the number of maintenance personnel. This information helps managers and supervisors to spot negative trends in time to take corrective action.